Resources
Public Health +
Public Health +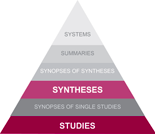 Public Health + is a source of studies and reviews related to a particular focused question. Your efficient strategy to search for public health evidence should start at the top of the 6S pyramid. To learn more about conducting an efficient search, visit the Search page of the Evidence-informed Public Health section of this website, or check out our free online learning modules.

Public Health +
comes to you via the McMaster Health Knowledge Refinery. Every article from over 120 medical and allied health academic journals is critically appraised to identify those that are methodologically sound. Articles that pass this process are rated (maximum 7) by clinicians for relevance and newsworthiness, and are then sent to this website. The articles are updated weekly and a searchable archive is kept on this website.
For more information on the process go to McMaster PLUS. To sign-up as a rater (so you can limit articles to those of high quality and within your area of interest, such as communicable diseases) click here.
Do you want to receive Public Health+ updates directly to your inbox? Subscribe to NCCMT's weekly news digest.