Resources
Public Health +
Public Health +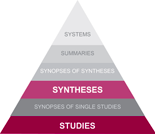 Public Health + is a source of studies and reviews related to a particular focused question. Your efficient strategy to search for public health evidence should start at the top of the 6S pyramid. To learn more about conducting an efficient search, visit the Search page of the Evidence-informed Public Health section of this website, or check out the free online modules in our Learning Centre.

Also in the Learning Centre: Search Pyramids
Our pre-populated Search Pyramids are based on the 6S Pyramid. Login to your account to access topic-specific Search Pyramids that focus on issues defined by public health professionals as high priorities in Canada.
Do you want to receive Public Health+ updates directly in your inbox? Subscribe to the Round-up, NCCMT's weekly news digest.
Results

categorized by...